Appraisals
The cluster manager is responsible for the appraisal of RTLB and may delegate this responsibility to a practice leader.  The cluster manager, in consultation with the lead school principal, establishes the timeframe for the annual appraisal cycle.
The lead school principal is responsible for the appraisal of the cluster manager. 
Boards of trustees should ensure that policies and procedures for the appraisal of RTLB:
are appropriate to individual RTLB, the cluster and the cluster's schools;
are developed in a consultative manner with RTLB;
are open and transparent;
have a professional development orientation; are timely and helpful to individual RTLB;
give consideration to matters of confidentiality, including the provisions of the Privacy Act and the Official Information Act.
RTLB are appraised according to the dimensions within the Indicators for Registered Teacher Criteria (RTLB) and according to the criteria within the relevant teacher collective agreement.  
Appraisals:
take place within a structured, monitored and continuous process and in a supportive environment
are evidence-based
are linked to, and ensure, relevant professional learning aligned to the cluster's strategic plan and linked to each RTLB development plan
include a record of the issues raised and the decisions reached
include self-appraisal as an integral part of the process
are aligned with the professional standards for kaiako/teachers contained in the employment agreement, the Registered Teacher Criteria and the indicators for RTLB model of practice
are aligned with the cultural competencies for teachers of Māori learners in Tātaiako
identify resources needed to support agreed goals
support both individual and cluster performance
align individual goals and objectives with cluster vision.
If an RTLB is identified as not meeting the expected performance requirements, the lead kura/school board must first address the matter through its normal employment policies and the staff performance requirements identified in the relevant employment agreement. Support from the NZSTA industrial relations service should be sought. 
The diagram below is an example of an RTLB appraisal and development model: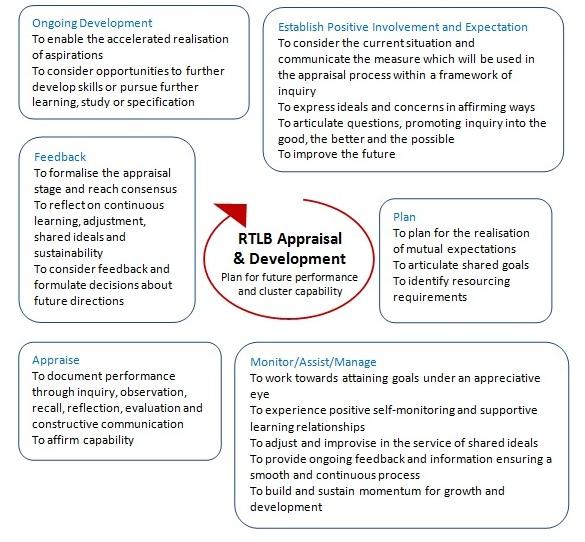 Content last updated: March 2017