He Urunga Tū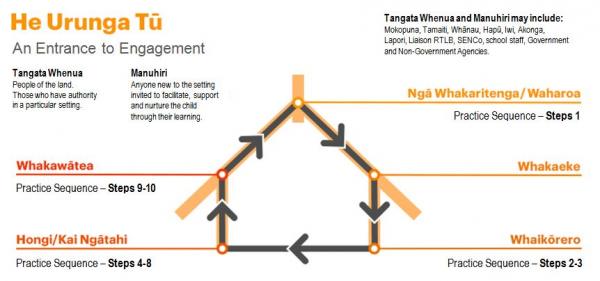 He Urunga Tū is about:
Tangata whenua People of the land. Those who have authority in a particular setting.
Manuhiri Anyone new to the setting invited to facilitate, support and nurture the child through their learning journey.
Tangata Whenua and Manuhiri may include Mokopuna, Tamaiti, Whānau, Hapū, Iwi, Akonga, Hapori, Liaison RTLB, SENCo, school staff, Government and Non-Government Agencies.
The practice sequence includes:
NGᾹ WHAKARITENGA/WAHAROA Practice Sequence - Step 1
WHAKAEKE
WHAIKŌRERO Practice Sequence - Steps 2-3
HONGI/KAI NGᾹTAHI Practice Sequence - Steps 4-8
WHAKAWᾹTEA Practice Sequence - Steps 9-10
Find out more about the practice sequence here.
An Entrance to Engagement
He Urunga Tū – An Entrance to Engagement was borne out of a challenge for RTLB best practice to:
reflect the principles of Te Tiriti o Waitangi
be culturally responsive and inclusive
embed Ka Hikitia – Accelerating Success 2013-2017 and Tātaiako: Cultural Competencies for Teachers of Māori Learners into our practice
validate and acknowledge the 'work before the work" that takes place before RTLB can engage with the Request for Support
clarify the roles of RTLB, whānau, kaiako and kura through a culturally responsive lens
validate and acknowledge the physical, mental, emotional and spiritual domains of the person/people involved
create a safe working platform for RTLB to conduct themselves in a way where they could be most inclusive and least intrusive
honour the entire process from the beginning to the end while recognising that every phase of the process is valued. 
Using this framework RTLB may enable ākonga, kaiako and whānau self-determination.  RTLB are manuhiri who are invited to facilitate, support and nurture the child through their learning journey.
    'Ahakoa ko wai, ahakoa nō hea - No matter whom they are or where
     they are from'.
The He Urunga Tū framework enables RTLB to be effective, inclusive, culturally responsive and safe in their practice.  It guides and supports RTLB to facilitate the process in a manner that is respectful and professional and maintains positive working relationships.
He Urunga Tū – An Entrance to Engagement framework contains five key phases:
Ngā Whakaritenga/Waharoa
Whakaeke
Whaikōrero
Hongi/Kai Ngātahi
Whakawātea
Each phase links to the RTLB Practice Sequence stages. The He Urunga Tū framework uses the analogy of pōwhiri to illustrate that RTLB work in kura to support the ākonga, kaiako and kura by invitation.
Acknowledgements 
RTLB are grateful to Maria Mareroa for her initial introduction to the notion of Pōwhiri as an analogy to align practice to. Special mention also to Toma Waihirere (kaumatua for Te Reo Areare), Osonia Hoterini (Resource Teacher of Māori) and Ripeka Lessels (Education Council New Zealand) for providing the final additions and naming of the He Urunga Tū framework. 
RTLB thank Ngā Pouwhirinakitanga o te motu for their robust discussions to ensure that RTLB maintained the dignity and integrity of their taonga tuku iho. Appreciation is also extended to those who sat in various meeting/hui around the country to actively participate in the design of this framework. RTLB are especially grateful to our kaumatua and kuia who have continuously supported and guided them throughout this important body of work.
Kua tāwhiti kē tō haerenga mai, kia kore e haere tonu. He tino nui rawa ōu mahi, kia kore e mahi nui tonu.
You have come too far, not to go further. You have done too much, not to do more. 
Tā Himi Henare, Ngati Hine 1989.