How the service is organised
Clusters
The Resource Teacher: Learning and Behaviour (RTLB) service is organised on a 'cluster' model.  Nationally, all State, State Integrated and Partnership kura/schools are grouped into 40 clusters. One school in each cluster (lead school) provides the service to, and on behalf of, all schools in the cluster.
RTLB service organisation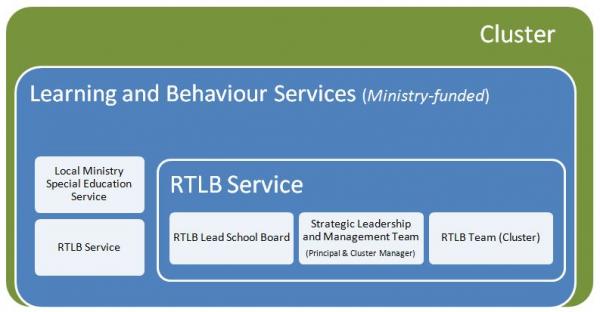 Note: RTLB are not funded to provide the service to Independent, Private, Special schools, or Home Schooling.
Learning and behaviour services
The Ministry of Education funds the following learning and behaviour services:
Together these services provide a seamless learning and behaviour service to schools for students who require additional learning and behaviour support.
The RTLB service
The RTLB service works alongside the Ministry of Education services to support schools to meet the needs of students who require additional learning and behaviour support.  
RTLB lead schools
Nationally, there are 40 lead schools for the RTLB service. Lead school boards of trustees:
provide governance and strategic direction for the RTLB service in their area
ensure processes and systems are in place so that a high quality RTLB service is provided to all schools in the cluster
delegate the leadership and management of the service to the lead school principal and the cluster manager.
RTLB teams 
RTLB teams are groups of itinerant fully-registered specialist teachers who have the training and skills to provide the RTLB service. RTLB work with teachers and schools to find solutions that support students with substantial barriers to learning, and build teacher and school inclusive practice capability. 
Each cluster has an allocated number of RTLB positions and has a professional leadership structure (practice leaders) that ensures all RTLB provide an effective quality service to cluster schools. 
Content last updated: March 2017