Principles
There are eight principles guiding RTLB practice:
1. Inclusive teaching
2. Culturally responsive
3. Ecological approach
4. Collaborative and seamless model of service
5. Strengths based
6. Reflective
7. Evidence based
8. Professional
1. Inclusive Teaching
Recognising and valuing the diversity and contribution of all children and young people.  RTLB assist kaiako/teachers to develop:
inclusive classroom environments that enhance learning, self-identity, participation and contribution
strategies for identifying and breaking down barriers to inclusion in the least intrusive way. 
For more information, visit the Inclusive Education and the Ministry of Education websites.
2. Culturally responsive
New Zealand communities are diverse, with many different cultures, ethnic, religious and socio-economic  groups.  RTLB understand and respect the social and cultural influences on learning in the multi-cultural context of Aotearoa New Zealand. They work to strengthen confidence in cultural identity and connection to parents, families/whānau and kura whānau/school communities.
The RTLB service supports schools to meet the identified needs of students in their communities by:
appreciating the diversity that individual RTLB bring to their cluster
increasing the cultural competence of the service
RTLB practice will:
develop positive, culturally responsive relationships with students and their whānau/families
use practices that reflect learners' cultural values, knowledge and ways of learning
empower students from all cultures to succeed.
This principle places importance on cultural knowledge and understanding and the right of Māori to define, protect, promote and control all of their tāonga and resources.  RTLB develop relationships with Māori whānau and community members so they can actively participate in the decision-making process to improve the achievement of Māori students.
Interventions involving Māori students should take the Māori potential approach and emphasise the importance of language, identity, culture and sharing knowledge in partnership with students, parents, whānau/families and kaiako/teachers.
RTLB practice will contribute to accelerating Māori student achievement by:
identifying the needs of Māori students within the cluster
identifying RTLB who can work in Māori medium settings
working for and with parents, whānau/families, iwi and hapū and delivering a culturally responsive service.
The Treaty of Waitangi
 RTLB practice is in accordance with the principles in the three articles of the Treaty:
partnership (article one) by working effectively with iwi and other Māori providers involved with a student
protection (article two) by valuing children as tāonga
participation (article three) by ensuring whānau and families have the opportunity to participate in the process.
Tātaiako
Recognising, valuing and responding to the needs of Māori through the RTLB being able to incorporate within their practice the competencies within "Tātaiako – cultural competencies for teachers of Māori learners". The competencies are:
Wānanga: participating with learners and communities in robust dialogue for the benefit of Māori learners' achievement.
Whanangatanga: actively engaging in respectful working relationships with Māori learners, parents, whānau/families, hapū, iwi and the Māori community.
Manaakitanga: showing integrity, sincerity and respect towards Māori beliefs, language and culture.
Tangata Whenuatanga: affirming Māori learners as Māori. Providing contexts for learning where the language, identity and culture of Māori learners and their whānau is affirmed.
Ako: taking responsibility for own learning and that of Māori learners.
Recognising, valuing and responding to the needs of Pasifika learners.
Ensuring culture and identity are acknowledged and valued and shape the work of RTLB.
The Maori Education Strategy: Ka Hikitia
Ka Hikitia is the Ministry of Education's approach to improving the performance of the education system for and with Māori. It emphasises the importance of a Māori potential approach in education and focuses on:
identifying opportunity
investing in people and local solutions
tailoring education to the learner
indigeneity and distinctiveness
collaborating and co-constructing.
Ka Hikitia also emphasises the importance of ako. The key aspects of ako are:
identity, language and culture counts – knowing where  students come from and building on what students bring with them
productive partnerships – Māori students, whānau and educators sharing knowledge and expertise with each other to produce better outcomes.
For more information, visit the Ministry website, The Māori Education Strategy: Ka Hikitia. 
Framework for Success for Māori
Framework for Success for Maori (PDF, 250 KB)
OHOOHO Self-management: Managing one's values and assumptions and using Māori values to help achieve them.
TU MAIA Self-awareness: Recognising one's own cultural values and assumptions and how they may influence our actions.
WHANAUNGATANGA Relationship Skills: Forming positive relationships through the use of cultural values and practices.
NOHO AO Social and Cultural Awareness: Showing understanding and empathy for understanding Māori students and their parents, families/whānau.
KOTAHITANGA Responsible Decision-making: Making culturally ethical, constructive choices from the Māori evidence collated.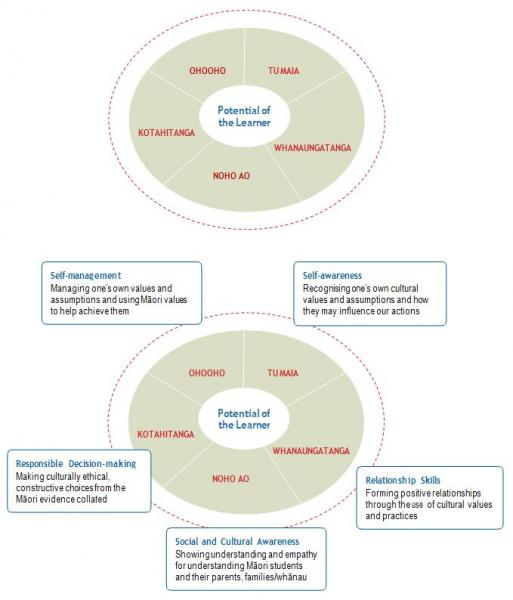 Working with Pasifika
The Pasifika Education Plan is the Ministry of Education's approach to encouraging personal responsibility, promoting collective accountability and emphasising the importance of lifting Pasifika achievement.
Pasifika students come from a range of Pacific islands each with unique cultural and language identities. Interventions involving Pasifika students must be appropriate for their unique cultures. It cannot be assumed that what is appropriate for one Pasifika culture will be appropriate for all Pasifika cultures.
For more information, visit the Ministry website, Pasifika Education Plan.
Collaborating with whānau/families
RTLB interventions should acknowledge the family's aspirations for their child's education. Whānau/families should:
be actively engaged and involved in all aspects of the process
feel encouraged and empowered in their knowledge and decision-making.
Communication with families should be culturally appropriate, for example:
accessing an interpreter if necessary
involving appropriate liaison people from the community
establishing and build on positive relationships. 
3. Ecological approach
The students' needs and the programmes, interventions and support provided must be understood and shaped within the context of the students' current learning environments. Using an ecological approach to the interventions means the student's learning and behaviour is assessed within the normal routines, interactions and practices of their classroom and kura/school.
The ecological view is that:
the student and their learning environment relate to and define each other
learning is an on-going,  interactive and contextualised process
learning and behaviour should be considered in the larger cultural context to properly understand the assessment.
any mismatch between students' physical, interpersonal and learning environments and students' characteristics and needs is identified.  
4. Collaborative and seamless model of service
This principle is about consulting and working with kura/schools, kaiako/teachers, akonga/students, whānau/families and communities and professional communities of practice, to put in place effective strategies and programmes to achieve mutually agreed goals.  RTLB value open communication and sharing of knowledge.
The key to this principle is placing the student at the centre and asking 'How can we best meet the needs of this student?'
Collaborative consultation involves:
negotiating, facilitating and supporting kura/schools to make sustainable change             
parents, whānau/families contributing information and being involved in the development of goals
working with kaiako/teachers to build capability and knowledge to provide effective learning environments for all students
encouraging student participation in planning progression and evaluating their learning
team members using a collaborative, proactive and solutions focussed framework as described in the RTLB practice sequence
co-construction of goals and interventions.
Seamless inter-professional practice is when professionals learn with, from and about each other to strengthen their own professional identity and practice and to collaboratively improve outcomes for all.  This involves:
RTLB, Ministry of Education Learning Suppotrt and agencies from different professional backgrounds working together with whānau/families and kura/schools to support improved outcomes for tamariki/students
all members of the team participating and relying upon one another to accomplish common goals
maximising the strengths and skills of all team members
developing and maintaining professional, trusting and respectful relationships
communicating with clarity and openness
facilitating interaction, exchange and co-reflection of the inter-professional team
supporting transition between RTLB, Ministry of Education Learning Support and other agencies
improving practice within each profession to better support and complement that of others.
5. Strengths based
RTLB value all people involved and seek to maximise their potential and participation. This principle is about finding solutions by looking at the strengths and resources of:
students
parents, whānau/families
kaiako/teachers
the kura/school
iwi. 
Intervention goals should:
acknowledge and enhance strengths
strengthen cultural identity
focus on the future and not the past
rekindle hope
facilitate change
be sustainable
enhance the motivation, capability and capacity within the collaborative team.
6. Reflective
Recognising and valuing the importance of evaluating practice for future improvement, RTLB keep records of each step in the practice sequence. This allows for continuous reflection on practice to ensure fidelity to programmes and better outcomes for students.  RTLB evaluate their professional practice:
in terms of the match between their behaviour and their intentions
in terms of the outcomes achieved for students, parents, whānau/families and school communities
with reference to established theory and examples of exemplary practice.
7. Evidence based
Visible throughout the RTLB practice sequence, Evidence Based Practice (EBP) is an integral part of RTLB work. Opportunities for collaboration with colleagues and whānau focus on strengths, data, best evidence, and what works.  RTLB use evidence-based interventions as they provide more effective support for students, families, teachers and school communities. RTLB support those involved with the student and enable them to integrate new learning with existing knowledge, skills and experience. RTLB encourage them to engage priority learners within the context of the classroom.
RTLB interventions should demonstrate evidence-based practice. Evidence Based Practice is 'the data we select – the relevant information that we notice from the external research work and from our own practice – and the interpretations we make from that data.'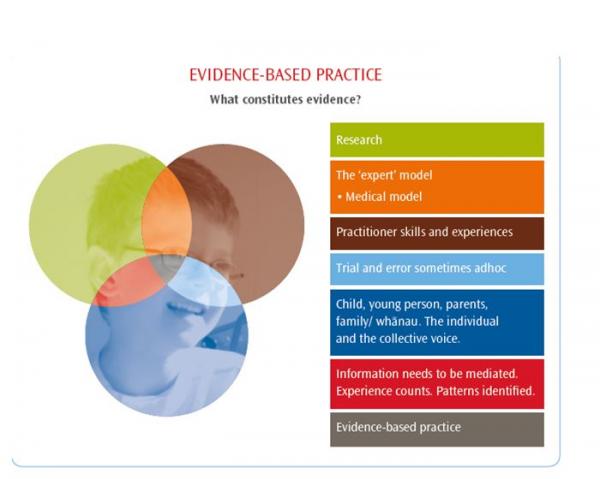 The process of interpretation is one of sense making: asking questions about the data to create new and useful knowledge. Spillane, Reiser, and Reimer (2002) identify four steps in the sense-making process:
Noticing
Framing
Interpreting
Constructing meaning
This takes time, effort and the use of prior knowledge. It becomes a dynamic interaction of research evidence, practitioner expertise and the voice of teacher/whānau/student.
Useful evidence helps provide answers to the questions or hypotheses being investigated. This means that the tools and approaches used to gather data must relate to the purpose of the inquiry and the context in which it is taking place. Inquiry can draw on informal evidence, such as observations and interviews, and formal evidence, such as standardised achievement data. Related research findings by others from outside the immediate context are another valuable source of evidence, provided it too is collected and actively interpreted for the purpose and the context.
Other models of evidence based practice
CULTURAL CONTEXT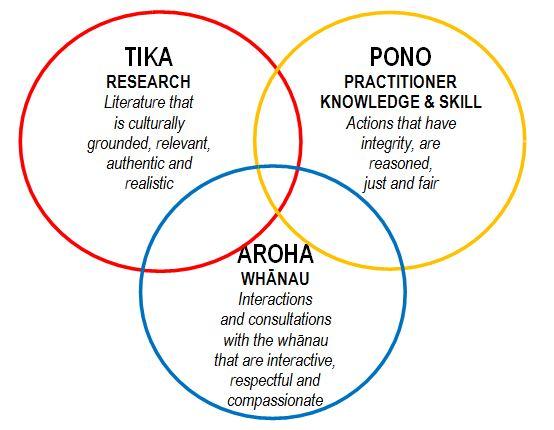 Teaching as Inquiry
RTLB practice fits within the Inquiry Cycle and each stage is visible within the RTLB practice sequence.
The following considerations are critical when planning an inquiry cycle:
decide how to gather evidence
decide how to critically analyse data
the collaborative process and activities scaffold learning. 
Teacher and student inquiry cycles may occur alongside the RTLB inquiry cycle:
student learning needs
learning needs of teacher/school
RTLB learning needs, inquiry question, beliefs and assumptions
Learning experiences, RTLB colleague/critical friend observations, professional literature
RTLB practice changes
teacher practice changes
impact for students.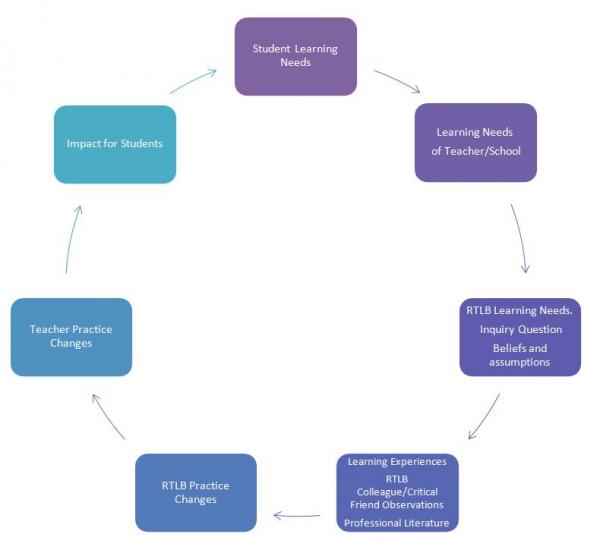 Springboards to Practice
Springboards to Practice were developed as part of the Enhancing Effective Practice Special Education project.
'The Springboards weave research information together with student, parent and teacher voices into practical teaching suggestions'. Evidence is considered from the following sources:
professional practitioners
from whānau/families and young people about their lived experience
from research (national and international)
from RTLB inquiry (local action research).
8. Professional
RTLB work within the Code of Ethics for Registered Teachers.  All interactions are governed by the principles of autonomy, justice, responsible care and truth.
As itinerating specialist resource teachers, RTLB work across schools within a cluster.  Each of the 40 clusters are employed by a lead school board of trustees and are therefore subject to the lead school employment policies and protocols.  RTLB are employed under primary, secondary or area school collective/individual employment contracts.  
RTLB act ethically, promoting positive values and maintaining and raising professional standards. They do this by:
gaining ongoing written, informed consent from whānau/families and/or caregivers during case work
familiarising themselves with relevant school policies and procedures relating to student safety and wellbeing
following cluster policies and protocols
adhering to relevant school policies and procedures related to student safety and wellbeing.
For more information about the code and standards of teaching, visit the Education Council website.
For more information about sharing information about vulnerable children, visit the Privacy Commissioner website.