Outcomes reporting
In the course of their work RTLB work to make a positive difference for students, teachers, schools and whānau/parents. Outcomes data collected at case, cluster and national level provides evidence of the positive impact of RTLB work.
Having a big picture view of the outcomes of RTLB work helps clusters make wise choices about how best to support teachers and learners.
A nationally consistent outcomes framework enables RTLB to use credible and useful data when reporting to whānau/parents, families, teachers, schools, clusters, the Ministry of Education and other relevant stakeholders.
Focus areas for RTLB cases
RTLB cases respond to requests for support for:
individual students
groups of students
school systems and inclusive practices.
RTLB indicate one or more of the following focus areas for each case:
Learning:
Participation - Tātaritanga
Learning Achievement – Whaiwāhitanga
Behaviour:
Managing Self – Rangatiratanga
Relating to Others – Manaakitanga
Case outcome measures 
For every case, RTLB use rubrics or scaled indicators to measure key outcomes of their work. Outcomes are measured and recorded for:
Student achievement
Teacher perception
Home/school partnerships
Quality of service.
Note: this data should not be used in isolation for appraisal purposes.
Student achievement outcome measures
For each case, at least one of the four student achievement outcomes is measured:
Participation
Learning achievement
Managing self
Relating to others.
Only those student achievement outcomes that are relevant to a case or that have been a focus of the work are measured.
The collaborative team agrees to the measures using an overall team judgement (OTmJ).
The measures are recorded twice: 1. at the start of RTLB involvement; and 2. at case closure.
Participation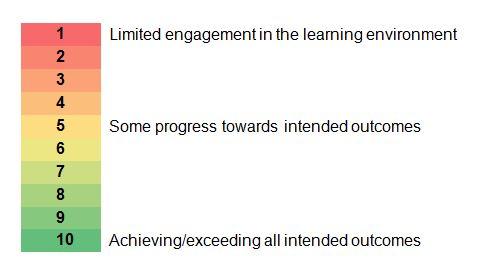 Learning Achievement       
Managing Self         
Relating to Others         
Teacher perception outcome measure
At the start of RTLB involvement (at the initial meeting) and at case closure (at the review meeting) feedback is gained from teachers to determine their level of confidence to meet the student's needs and in sustaining inclusive practice. The pre and post data is used as evidence that teachers have the confidence, knowledge and skill to meet the needs of diverse learner/s in inclusive learning environments.
The measure is recorded twice: 1. at the start of RTLB involvement; and 2. at case closure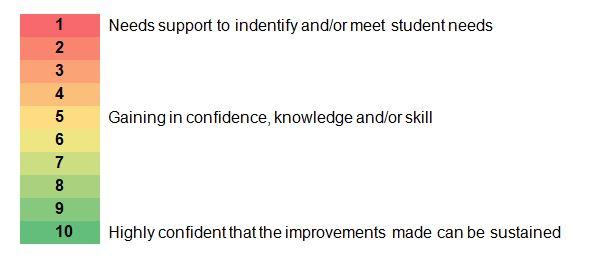 Home/School parnership outcome measure
At the start of RTLB involvement (at the initial meeting) and at case closure (at the review meeting) feedback is gained from teachers and whānau/parents to gauge the strength of the connection between home and school, and the extent to which the partnership supports student learning.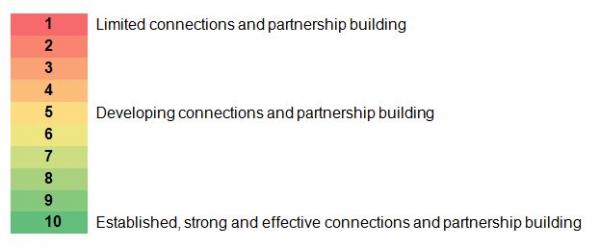 Quality of service outcome measures
At case closure a judgement is made about the quality of service being provided by RTLB, in particular:
whether RTLB have worked in a nationally consistent way, in accordance with the RTLB practice sequence
whether each step of the practice sequence is supported by robust evidence.
There are two measures that show the quality of the service provided by the RTLB:
fidelity to the practice sequence
strength of evidence.
Both outcomes are measured.  Each measure is recorded once, at case closure.
Fidelity to the practice sequence 

Strength of evidence
The RTLB uses self, practice leader or peer case review in accordance with cluster procedures to gauge the strength of supporting evidence used at each step of the practice sequence.
Note: Decisions about procedures for case review are made at cluster level.
Who makes these outcomes decisions?
For student outcomes decisions will be an overall team judgement (OTmJ) made by the collaborative team that has been involved in the case.
For teacher perception, information will be gained in discussions between the RTLB and teacher/s at the start of the case and at case closure.
For Home/School Partnerships this could be made as a team, or could be made bythe RTLB if the situation is sensitive.
Decisions about quality of service are made with a colleague or practice leader or by self-review, according to cluster procedures.
Project outcomes measures
As well as measuring the outcomes of case work, RTLB also record the outcomes of cluster-generated projects. Cluster-generated projects are in-house pieces of work such as research or resource development. Projects do not follow the practice sequence.
At the conclusion of a project, the cluster records those outcomes that have occurred as a result of the project:
project has been formally shared with other RTLB or other relevant professionals
project has developed an RTLB intervention for use in schools
project has influenced quality RTLB practice
project has influenced quality RTLB service provision
project has led to system or process efficiencies.
Project outcomes are not measured using a rubric or 1-10 scale.
Closed but incomplete RTLB cases
When cases are closed and incomplete, RTLB indicate the reason for case closure:
student no longer enrolled
student excluded
consent withdrawn
agreement (by collaborative team) to close
referred on to:

Ministry of Education Learning Support Service
ORS
other agency.